Posted 4/1/2019: FRIENDS OF MAHA'ULEPU CELEBRATES! On March 17th at Po'ipu Beach pavilion, a celebration was enjoyed by the community who supported and worked hard for our success in defeating a dairy that would have all but destroyed our precious Maha'ulepu environment. View pictures of the event!
Posted 3/19/2019: 'Friends' have good reason to party.  HDF, despite its best intentions, was fighting an uphill battle from day one. It never gained strong community support for this project, billed as a way to provide fresh milk for keiki and create a few jobs. The focus of its opposition was always on the threat to the environment this dairy represented and HDF couldn't get shake that possibility. Read the article.
Posted 2/1/2019: IT'S OFFICIAL!!! NO DAIRY FARM!!! Ulupono and HDF will not be operating their planned dairy at Maha`ulepu. Thank you all for the hard work and financial support. With your support, all Kauai and our South Shore has been spared. We plan and know that our work will continue as we strive to protect the fresh water and environment of Kauai. FOM was asked to respond to Amy Hennessey's quotes in the Ulupono press release today, Read more.
Posted 1/25/2019: BIGGEST NEWS YET! Although Hawaii Dairy Farms has not made a statement to the press or others to our knowledge, we found a very interesting auction ending in the next 27 days.  It appears that Hawaii Dairy Farms may be selling it all!  We called the auction house and learned that the farm equipment is in Koloa. Photos even show a bumper sticker on the back of the truck that reads, "Pull For Milk." While HDF has not formally announced the end of their planned industrial dairy for Maha`ulepu, we expect it will come within days if not hours.
Posted 1/10/2019: Recent news articles have made us cautiously optimistic that we may have good news in 2019. For those of us who live on Kaua`i, the tropical climate and rainy weather make obvious the island's volcanic topography and natural drainage to the ocean. It all flows down hill. Add to that the clay soils of Maha`ulepu with poor absorption and increased risk for runoff left most very concerned about any land based animal waste operation. Pam and Pierre Omidyar likely thought they would be helping Kaua`i and the State by proposing an industrial for Kaua`i with more to follow on other islands. Our climate and topography has pretty well established that any large scale operation that deposits animal waste on the ground will result in animal waste in our streams and ocean because that is how these islands drain. Big Island Dairy is now slated to close because their waste cannot be contained and they are having regular releases of manure laden waste water into the gulch streams that drain through their property and run through O`okala on their way to the ocean. After four years of working to avoid contamination of our fresh and ocean waters, Ulupono is on the verge of making a good decision for Kaua`i and the health of our environment:
"Ulupono is now considering whether or not the Kauai dairy may be a good investment, said spokeswoman Amy Hennessey. There's been no onsite work on the project in over a year, and Hennessey said Ulupono should come to a decision next month."
Let's all think good thoughts and pull for the Omidyars to do the right thing in 2019! We don't need to repeat here what is happening on the Big Island.
Posted 8/1/2018: We can't explain why Pam and Pierre Omidyar, Ulupono Initiative and Hawaii Dairy Farms fail to recognize the environmental and economic devastation that would befall Poipu and Kauai, if they are permitted to proceed with the industrial dairy they propose to operate at Maha`ulepu Kauai. In a very recent article in The Garden Island, Amy Hennessey is quoted to say that they are intent on developing their concentrated dairy at Maha`ulepu: Read article.
Posted 3/18/2018: FOM requested help from EPA when DOH refused to warn the public of the serious and significant fecal bacteria polluting the Waiopili Stream. In late July 2017, EPA told DOH that they "must" post appropriate warning signs. They also questioned DOH'd evaluation of the likely source, noting that DOH conclusions were unsupported by their own data. Finally, they admonished DOH to do more to determine the likely source of the pollution. To date, that has not been done.  Now, EPA has released the final list of impaired waters of the US and the Waiopili Stream is officially included on that list.
Posted 2/13/2018: Recent Surfrider research shows that the Waiopili is still outrageously contaminated with fecal bacteria. View report.
Posted 2/2/2018: FOM reached out to knowledgeable sources, universities and others to best understand and respond to HDF's proposed industrial dairy at Maha`ulepu. Yesterday, we received a very detailed letter from Johns Hopkins University that was sent to DOH Director, Virginia Pressler and OEQC Director, Scott Glenn. The letter details the serious risks to public health and the environment posed by Hawaii Dairy Farms proposal.  Read the letter.
Posted 1/27/2018: Ulupono, Hawaii Dairy Farms and Grove Farm refuse to recognize why a proposed industrial dairy is not sustainable and why it would be irreparably harmful. Despite two separate court losses (one Federal and one State), the defendants publicly state their intent to proceed at Maha`ulepu. HDF now plans to amend HRS 343 directly to obtain a statutory exemption for their project. They have hired 3 well-known, connected lobbyists with the theme "We're local ag, HRS 343 harms ag, so the state should support changing this law." Although we anticipate a return of some funds from the successful Federal Court award for the attorney fees and costs FOM was forced to spend, it now appears we may need to mount another expensive effort as we protect Maha`ulepu. The cost to lobby the entire State Legislature, file another suit in State Environmental Court and prepare for State Supreme Court will be great. Please donate to defend Maha'ulepu!
Posted 12/26/2017: Our work and successes this year would not have been possible without the generous support of OUR MEMBERS. At the request of some donors, FOM has opened an account with Edward Jones to accept donation via stock transfers. If you WISH to take advantage of this 501(c)(3) option, please contact us for more information.
Posted 12/12/2017: Ulupono/HDF requested the Environmental Council (EC) TO allow developers to batch public comments submitted during an EIS process and permit the developer to respond to a comment they determined was representative of the batch. Two FOM Board members attended an EC meeting on Oahu 10/31 AND offered oral and written testimony to respond to the environmental regulation change proposed by Ulupono/HDF. Thus far, the EC has agreed that the environment is better served by requiring a developer to answer comments, point by point, if they are not a form letter. We felt the trip was very successful and we continue to remain engaged in the process of the States update of its Administrative Rules which the State adopts to comply with the Environmental Protection Act. Read FOM's Comments/Testimonies. The entire EC thanked FOM for taking the time to participate and share why comment batching and batch responses by the developer are a bad idea.
Posted 12/10/2017: FOM attended a 2 day symposium sponsored by Omidyar's Ulupono and Civil Beat. Oahu environmentalist Carroll Cox covered the symposium, highlighting Amy Hennessey's comments on HDF's EIS, which were not accurate. Basically, the symposium was suggesting ways to minimize public impact. View show.
Posted 11/14/2017: THE FEDERAL COURT AWARDED FOM $506,328.64 FINDING THEM THE PREVAILING PARTY, AKA THE WINNER! Much of the award will cover attorney fees and costs that our legal team agreed not to bill us for once they were quite sure we would win. We have no way of knowing when our legal team will receive the award. Clearly the Court has validated FOM's work. Defendants may appeal the Court's Order. View a copy of the 71 page Order and our Press Release.
Posted 9/18/2017: WAIOPILI STREAM TEST RESULTS STILL ABYSMALLY HIGH. Surfrider Kauai Blue Water Task Force water quality test results were recently released. The Waiopili Stream is, by far, the most contaminated stream on Kauai. We are still waiting for the DOH phylo chip study, an effort to determine the source of the ongoing chronic pollution and part 2 of the Sanitary Survey.
Posted 8/30/2017: SIGN PETITION TO PAM AND PIERRE OMIDYAR TO STOP DAIRY! We are hoping for over 6,000 signatures to our plea to stop the proposed industrial dairy at Maha'ulepu. Please sign our online petition to let our voices be heard!
Posted 8/14/2017: FRIENDS OF MAHA'ULEPU MAKES NEW YORK TIMES! The recent Times article, "EBay's Founder Has a New Idea: Build a Dairy in Hawaii", released 8/13/2017, balances many competing issues. When it comes to Kauai and our effort to preserve and protect a spectacularly beautiful coastline, home to some of the healthiest reefs in the State and many endangered or protected species, the article did not address some critical facts your readers may find interesting. A 35 foot vegetation buffer along the Waiopili Stream, that now collects all flow from Omidyar's proposed dairy site, will not do anything to stop the manure that would drain into an extensive ditch network running through Omidyar's pastures, emptying directly into the Waiopili via deep channel ditches as it flows to the ocean. There is no mention of the USDA NRCS study that found 80% of Omidyar's acreage primarily clay soil. They concluded the site is at high or very high risk for runoff. Also missing is Omidyar's withdrawal of his Final EIS after the Director of the Office of Environmental Quality Control (OEQC) recommended against DOH approval. Why is Omidyar willing to risk the health of such a beautiful environment when he has to import his herd's feed and export the milk to another island for processing and packaging? If nothing else, the Times article unfortunately confirms Omidyar's intent to proceed despite abundant evidence of serious harm that out weighs any benefit (pollution/contamination of ground water, drinking water and the ocean vs milk). Read the NY Times article.
Posted 6/5/2017: Friends of Maha'ulepu's Federal Clean Water Act case against Hawai'i Dairy Farm, Ulupono Initiative and Maha'ulepu Farms has come to a successful conclusion! Judge Kobayashi ordered the entry of a Consent Judgement for Friends of Maha`ulepu. While HDF and has always maintained they did nothing wrong, nor violate the law, FOM's decision to file the Clean Water Act case has been vindicated by the independent Comments filed by the US Department of Justice (DOJ) in FOM's case. DOJ identified the Clean Water Act violations and concluded that the Consent Judgement does provide the necessary injunctive relief and financial payment to fund a Supplemental Environmental Project, instead of other civil penalties. View the Consent Judgement with its exhibits.
Posted 5/4/2017: Join Carroll Cox for an episode of Eyes on Hawaii with guests Genard Frazier from O`okala on the Big Island, and Bridget Hammerquist from Koloa, Kauai. They review and discuss the concerns members of the O`okala community have raised regarding the "significant" impact the Big Island Dairy has had on the community from untreated waste runoff. The Big Island Dairy is an industrial dairy operating up slope from the town. View Video.
Posted 4/29/2017: One driving force behind FOM has been the desire to preserve/protect our drinking water, the Waiopili and the ocean. FOM and Surfrider joined forces and filed a Petition with HDOH to list the Waiopili Stream as an impaired water body of the US and State. By filing the Petition and assuming the Waiopili was listed as impaired, that listing would then restrict permits issued to any operation with the potential to add additional pollutants. Once listed, no likelihood of an NPDES wastewater permit being issued in the area of the Waiopili. Due to chronic and consistent levels of significant pollution documented through water quality testing, the Waiopili is on the draft proposed list. Read the joint Comment filed by FOM and Surfrider with the expert input by the Law Offices of Charlie Tebbutt. Without help from so many, we would not have come this far. Please continue to keep FOM in mind and donate now to FOM's tax deductible 501(c)(3) effort.
Posted 4/11/2017: STRIKE THREE? As of 10pm on April 5, HDF, Ulupono, and Mahaulepu Farms, all signed a Consent Decree that will be entered by Court Order prohibiting them from any further construction, development or ground-disturbing activities for the proposed industrial dairy operation. Read and enjoy FOM's accomplishment by viewing our recent Press Release. Without help from so many, we would not have gotten this far. HDF plans on appealing the decision, so please continue to keep FOM in mind and donate now to FOM's tax deductible 501(c)(3) effort.
Posted 3/23/2017: STRIKE TWO! On Tuesday, Judge Randal Valenciano revoked all developer permits and approvals for construction of a dairy at Maha'ulepu, pending an environmental assessment. The motion for summary judgment would require HDF to follow Hawaii Revised Statutes 343. The statute requires an environmental assessment at minimum and, possibly, an environmental impact statement. Without help from so many, we would not have gotten this far. HDF plans on appealing the decision, so please continue to keep FOM in mind and donate now to FOM's tax deductible 501(c)(3) effort.
Posted 3/11/2017: Read more about HDF withdrawing their FEIS and view photos and videos of Maha'ulepu after recent heavy rains.
Posted 2/26/2017: MAJOR SETBACK! Hawaii Dairy Farms reported to media and the public that they withdrew their Final Environmental Impact Statement (FEIS) from Hawaii Department of Health to improve their FEIS answers to public and agency Comments. HDF's decision to withdraw followed a finding by the director of the Office of Environmental Quality Control (OEQC) that their FEIS was so deficient he recommended DOH not accept HDF's FEIS. Without help from so many, we would not have gotten this far. It's going to be a fight so keep FOM in mind and donate now to FOM's tax deductible 501(c)(3) effort.
Posted 2/26/2017: BIG NEWS! HDF withdrew their FEIS from the Department of Health. There is no longer any decision for Dr. Pressler to make on February 24th, 2017. HDF also withdrew their application for the required NPDES (National Pollution Discharge Elimination System) General Stormwater Construction permit. What does this all mean? We are taking heart from the Hawaii Administrative Rule, which indicates that the consequence of withdrawing their FEIS means that HDF has to start the process all over and file a new EIS, assuming they intend to re-submit a more complete study to overcome the deficiencies identified by the Director of the Office of Environmental Quality Control.
Posted 2/18/2017: STRIKE ONE! We received news that the state's Office of Environmental Quality Control (OEQC) sent a recommendation of NON-ACCEPTANCE to the Department of Health (DOH) regarding Hawaii Dairy Farm's Final Environmental Impact Statement. A final decision will be made on February 24th, 2017 by the Department of Health. Read OEQC Director, Scott Glenn's recommendation against DOH acceptance of HDF's FEIS. HDF has stated they are determined to proceed. Without help from so many, we would not have gotten this far. It's going to be a fight so keep FOM in mind and donate now to FOM's tax deductible 501(c)(3) effort.
Posted 2/17/2017: Our dairy fight is heating up! Last Thursday, Council member Derek Kawakami and Dee Morikawa decided to endorse the industrial dairy proposed for Maha`ulepu. Our District Representative, Dee, did say she was "a little concerned" about the location. Their endorsement, however, appeared to be based on misinformation. FOM responded! If you missed it in TGI, view the full page coverage, The Truth, printed 2/15/17.
Posted 2/11/2017: FOM Board members met with Senator Ronald Kouchi and his Chief of Staff on Oahu. We look forward to the Senator supporting our attorney's demand of the Department of Health. We also testified before the Kauai County Planning Commission. Based on testimony received, the Kauai Planning Department requested that the Planning Commission defer any action on the Kauai County General Plan. This will allow the Planning Department to modify the plan, which will be submitted in the form of a new draft. A strong statement was submitted by the Koloa Community Association directed specifically to the preservation of Maha`ulepu. Read Statement.
Posted 2/11/2017: A strong formal response has been filed by FOM's attorney, the Law Offices of Charles Tebbutt, with the Department of Health to support our demand that HDF's FEIS be rejected. Read Response.
Posted 1/30/2017: NOW IS THE TIME! With the release of the Final EIS, Hawaii Dairy Farms intends on fighting Friends of Maha'ulepu, South Shore residents and all of Kauai, who oppose their industrial dairy. The only way to shut down this operation for good is to challenge any approval of HDF's FEIS in the State Environmental Court and, if necessary, the State Supreme Court. We have only 60 DAYS from any approval to submit our challenge and it will take a significant amount of money. Now is the time to open your check books and send the largest possible tax-deductible donation to FOM.
Posted 1/25/2017: FOM was the featured guest topic for the first hour of the Carroll Cox show. Carroll called later to share that he received quite a few phone calls from concerned listeners. Listen to the show.
Posted 1/25/2017: Hawaii Dairy Farms Final EIS was filed with the State Department of Health on January 17, 2017. At best, it's self serving since it only means that Group 70 International, the same company that prepared the dairy plan, is also filing the final part of their report claiming no significant environmental impact from the proposed industrial dairy operation. To date, there has been no independent engineering review of the Group 70 claims. You can and SHOULD send a written response if the dairy's response to your Draft EIS Comment was "not satisfactory" or failed altogether to address your concerns. Our time is short! The recommendation will be either to "accept" or "reject" the EIS on or before February 10, 2017. We need financial help now more than ever as we marshal our experts and respond to the FEIS. READ MORE ON WHAT YOU CAN DO.
Posted 12/2/2016: COURT FINDS HAWAII DAIRY FARMS AND ULUPONO INITIATIVE VIOLATED FEDERAL CLEAN WATER ACT – Case against billionaire investor Pierre Omidyar's flawed plan to go to trial. On December 1, the federal district court of Hawaii issued a decision finding that Hawaii Dairy Farms, Ulupono Initiative, LLC and Maha'ulepu Farm, LLC, owned by internet billionaires Pierre Omidyar and Steve Case, violated the federal clean water laws by beginning construction of a proposed 2,000-head dairy on the south shore of the Garden Island of Kauai without first obtaining proper construction permits. Read the full Press Release and the Summary Judgment.
Posted 11/13/2016: Read our recent letter to EPA Staff Members concerning FOM's request that the Hawai'i Department of Health impose fines and deny Hawaii Dairy Farms (HDF) any NPDES permit. The letter includes photos that support Mr. Wong's letter to HDF from Hawaii DOH, informing HDF that a Federal Stormwater NPDES permit is required to cover the site construction activities HDF planned. The photos clearly demonstrate the many ditches draining surface and groundwater from HDF's proposed industrial dairy site where massive amounts of wet manure will be left sitting ready to flow as runoff to the Pacific Ocean.
Posted 11/2/2016: Read our recent letter/demand to Virginia Pressler, Director Hawaii State Department of Health. The letter includes photos demonstrating one of the large channel ditches, draining water from the site, less than 12 feet from one of HDF's main cow raceways. That raceway, sloped for drainage, will collect wet manure and urine from the cattle which will drain to this and other extensive ditch networks on site. HDF seems to believe that the tall grasses, which have regrown between the raceway and ditch will be sufficient to contain the wet manure and urine falling from the initial 699 cows. Plans are for all waste to be left where it falls or sprayed back on to the property with either effluent spraying or pumping out of manure sludge solids from their effluent ponds. HDF acknowledges that "Surface waters draining the project site meet Waiopili Ditch, and will eventually reach the ocean."
Posted 11/2/2016: View our photo essay demonstrating the many ditches draining surface and groundwater from HDF's proposed industrial dairy site, showing the direct flow path to the Pacific Ocean. They support Mr. Wong's letter to HDF from Hawaii DOH, informing HDF that a Federal Stormwater permit is required.
Posted 10/4/2016: AN URGENT REQUEST FOR YOUR KOKUA. As we await the Federal Court's ruling on our Clean Water Act case, Friends of Maha'ulepu (FOM) must replenish its operating funds. Since April 2014, FOM has educated the public and responsible agencies on the devastation that would occur from HDF's proposed industrial dairy at Maha`ulepu. Donations have covered the Clean Water Act case thus far. Critical data obtained from the site inspection, the foundation for FOM's DEIS response, will also support and be used in the Clean Water Act and State court cases. The expert costs are paid, but we must raise at least $50,000 by October 31st to conclude the Clean Water Act case through trial. See how FOM has used previous donations to help save Maha'ulpeu. Please mail your tax deductible donation to Friends of Maha`ulepu, P.O.Box 1654, Koloa, HI 96756 or donate via our GO FUND ME website.
Posted 10/4/2016: DID YOU KNOW? Based on years of evaluating communities impacted by factory farming and related peer-reviewed publications, Dr. Kilpatrick, an expert in economic analysis focusing on complex real estate issues such as development and preservation, concluded that nearby residences to the proposed HDF industrial dairy could lose up to 88% OF THEIR CURRENT PROPERTY VALUE. Remaining residences in the South Shore would likely lose up to 50% OF CURRENT VALUE. DONATE NOW! We need your help to stop the desecration of Maha'ulepu and protect the South Shore's quality of life and property values!
Posted 9/19/2016: Ten FOM members attended the Federal Court hearing before Judge Leslie E. Kobayashi on FOM's Clean Water Act Complaint against Hawaii Dairy Farms. The Judge stated she was not inclined to grant Defendants Motion for Summary Judgement seeking to have FOM's Clean Water Act case dismissed for lack of standing. She found Alan Faye's declaration, filed by FOM, as support for standing and that his testimony qualified him as a lay expert witness. The Defendants' attorney argued that the Court should throw out FOM's case altogether. A trial date is currently set for February 2017. Read the Full Story.
Posted 9/19/2016: Fundraiser for Friends of Maha'ulepu! 100% of artist proceeds from the sale of Eileen Kechloian's oil paintings will be donated to Friends of Maha'ulepu. Come enjoy wine, pupus, art & music on September 24th, 2016, 6-9pm at the Art House Gallery in Koloa (3440 Poipu Road), the little red house just one building from the gas station. You can go early for advanced viewing of Eileen's new pieces. If unable to attend on 9/24/16 you may purchase the piece and retrieve it after the event. Come have a good time even, if you can't find a piece that works for you. Hope to see you there!
Posted 9/19/2016: We've been hard at work for more than 2 years. Costs have been substantial and our bank account is now low, but it's been worth the fight! We've kept HDF from operating their dairy at Maha`ulepu. Please mail your tax deductible donation to Friends of Maha`ulepu, P.O.Box 1654, Koloa, HI 96756 or donate via our Go Fund Me website.
Posted 8/24/2016: FOM filed a Federal Lawsuit 6/1/2015 which has progressed and received several favorable rulings from Judge Leslie T. Kobayashi. In 2/16, she issued an order allowing FOM site access to inspect the proposed dairy while conducting water quality and soil analysis. Based on evaluation and test results with consulted experts, it has been concluded there was evidence that HDF is, and has been, violating the Clean Water Act due to grubbing and digging on over 480 acres of the proposed site. On 7/1/2016, FOM asked that the Court enter a partial Summary Judgement on the pollution violations. If it is determined that there has been a breach of the Clean Water Act, HDF, and other named defendants can be fined up to $37,500/day. Read the Partial Summary Judgement and supported pleadings.
Posted 8/24/2016: FOM is excited about the upcoming hearing on September 12th before Judge Kobayashi, as the evidence is strong. We are inviting all members of the hui, who are able, to attend the oral argument at 10 am in the Federal District Court on Oahu. Let's fill the courtroom and let Judge Kobayashi know how important this issue is for all of us.
Posted 8/16/2016: Department of Health has finally posted signs to warn the public of the serious bacterial pollution in the waters of the Waiopili at Maha'ulepu Beach. After two years of chronic exponentially high fecal bacteria levels, DOH failed to warn. With a mandate from the EPA and a further nudge from our very own Kauai Senator, Ron Kouchi, currently the President of the Hawaii State Senate. Read the letter he sent to DOH Director, Virginia Pressler, MD and Deputy Director, Keith Kawaoka, PhD.
Posted 8/16/2016: With the skilled offices of our attorney, Charlie Tebbutt, Esq., FOM filed an excellent Comment in response to HDF's Draft EIS. The Comment, a 43 page document, details not only HDF's extensive misstatements and inaccurate information, but the supporting documents prepared by a wide range of scientific experts confirms that the proposed industrial dairy operation at Maha'ulepu would be an environmental, ecological, archaeological, cultural, sociological and economic disaster for the island of Kauai. FOM's entire formal comment can be accessed via Dropbox or Google Drive.
Posted 7/28/2016: Listen to FOM's latest public service announcement with one of our members who actually suffered from an infection acquired in the ocean waters off the Waiopili. Listen now.
Posted 7/28/2016: EPA has concluded that warning signs must be posted on the Waiopili where it crosses the beach at Maha'ulepu. Bottom line, EPA agreed that what FOM did in May of 2016, in fact, should be done and must be done now. View letter written to DOH and read FOM's Press Release.
Posted 7/6/2016: Listen to Friends of Maha'ulepu's recent radio spots combined with beautiful footage created by one of our members! View now.
Posted 7/1/2016: Join Friends of Maha`ulepu and financial expert John Kilpatrick, PhD. on Thursday, July 14, 2016 at the Koloa Neighborhood Center. Learn more about the harm to our island, economy and property values and how you can help. View Flyer.
Posted 6/20/2016: HDF went to the public 2/15/15, insisting their dairy plan was safe and claiming they would prove it with a voluntarily EIS. When they filed their Draft EIS (DEIS) on 6/8/16, 18 months later, they did so without disclosing that HDF had first quietly delivered major dairy plan modifications to DOH Waste Water Branch Chief, Sina Pruder on 6/1/16. DOH announced and published the DEIS but no one told the public that the supposed safe dairy plan, had been changed! How safe was HDF's plan, supposedly formulated over years, if 27 major modifications had to be slipped in 7 days before they submitted their DEIS?
Posted 6/20/2016: How safe is their Plan? Yes, they just rolled out a Draft EIS (DEIS) 6/8/16. Did the EIS tell the public that just 7 days before they quietly slipped in 27 changes to their Dairy Plan? Did FOM get any notice that HDF had filed a "Waste Management Plan Update" (WMP) with Sina Pruder, Waste Water Branch Chief and the person responsible for approving HDF's dairy operation? No. HDF did not disclose or give the public any notice of the changes they are asking DOH to accept as they continue to seek approval to operate a large dairy at Maha'ulepu, Kauai. If it were not for the right questions being asked during depositions of the farm manager, Jim Garmatz, 6/14/16, none of us would have known that HDF had changed their plan: HDF WMP – Updates for Review. Exactly which plan is the public supposed to comment on during this 45 day comment period?
What can the public do to help? Call, write and demand that HDF withdraw its documents, resubmit a comprehensive Plan with all parts of the Plan in one document so the public can knowingly comment: Contact List.
Posted 6/8/2016: PLEASE HELP! Hawaii Dairy Farms has released their draft EIS. All responses are due 45 days from June 8, 2016. Responses must be post marked no later than July 25, 2016. Download or view the DEIS.
Posted 5/6/2016: Learn about corporate outsiders, their plans for Kaua'i and the risks they may pose to our water, 'aina and way of life. Hear Paul Cienfuegos, nationally renowned 'Community Rights' educator and organizer, will share information on what we can do now to protect our precious Kaua'i from harmful industrial operations. You are invited to attend any of the five island wide community meetings. View the schedule.
Posted 3/9/2016: Judge Leslie Kobayashi issues Ruling in FOM's Clean Water Case currently pending in Federal Court. In granting FOM the right to inspect the proposed dairy site, Judge Kobayashi clarifies that land owner, Grove Farm and tenant, Hawaii Dairy Farms, are incorrect in their contention they are no longer in violation of the Clean Water Act (CWA) because construction activities have been suspended. The Judge ruled once ditches, raceways or other conduits are created enabling debris run-off, soil, bacteria or other prohibited substances, the CWA violation continues though construction has concluded.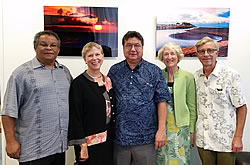 Posted 2/25/2016: Three FOM representatives flew to Oahu due to pending amendments to the Farm Bill which, if passed, would produce even greater difficulty to keep HDF's dairy from operating at Maha'ulepu. Read More.
Posted 6/2/2015: Friends of Maha'ulepu has filed a Complaint in the Federal District Court for the District of Hawaii against the proposed Hawaii Dairy Farms mega-dairy for failure to obtain a required stormwater construction permit before beginning ground disturbing activities that will further degrade Waiopili Stream and the area of Gillin's Beach. View Press Release.
Posted 5/20/2015: FOM has just been made the beneficiary of a $50K challenge, promising to match $ for $ all donations up to $50K. The donor has chosen to remain anonymous. Please donate now to help us reach our goal!
Posted 5/13/2015: Groups Petition State to Protect Kauai's Most Polluted Stream – Waiopili Stream average results from all the stream water samples tested, for more than a year, were 275 times higher than permitted State limits View Press Release, Petition and Petition Exhibits.
Posted 5/11/2015: Friends of Maha'ulepu has served a Notice of Intent to Sue under the Federal Clean Water Act to Hawa'i'i Dairy Farms and Grove Farm. View the Notice of Intent to Sue and Press Release. Read more in The Garden Island article.
Posted 3/12/2015: Listen to Bridget Hammerquist, Jay Kechloian, and other Friends of Maha'ulepu members as they discuss the current status of the proposed large industrial dairy on the Carroll Cox Show. Listen to the broadcast.
Posted 3/9/2015: Friends of Maha'ulepu member, Jay Kechloian, has graciously agreed to match donations made between March 1st and May 15th, up to $100,000. Double your gift by giving now! Send donations to: Friends of Maha'ulepu , PO Box 1654, Koloa, Hi 96756 or online at GoFundMe. Read more about Jay's matching donations on the front page of The Garden Isle.
Posted 3/1/2015: PLEASE HELP, MAKE YOUR VOICE HEARD! FINAL DAY TO SUBMIT PUBLIC COMMENT TO HAWAII DAIRY FARM'S EISPN proposed industrial dairy at Maha'ulepu. Learn how to submit your comments!
Posted 2/19/2015: Listen to Carroll Cox's recent radio interview with Dr. Carl Berg of Surfriders Foundation, Kauai Chapter, and Bridget Hammerquist of Friends of Maha'ulepu concerning opposition to the proposed industrial dairy at Maha'ulepu.Listen to program.
Posted 12/16/2014: View Hawai'i News Now Exclusive – Opposition Mounting to Kaua'i Dairy Farm. View video and article.
Posted 12/12/2014: Friends of Maha'ulepu will be hosting a community meeting and will be filmed by a news crew from KGMB. The meeting will be held on December 11th at the Koloa Community Center at 6:30 pm to provide updates and answer questions concerning the proposed industrial Hawai'i Dairy Farm. View flyer.
Posted 11/26/2014: Friends of Maha'ulepu brought together experts in several fields to discuss the facts about the Hawaii Dairy Farm. Watch the video…
Posted 10/27/2014: You are invited to join Friends of Maha'ulepu to learn about legal remedies concerning the proposed industrial dairy. Thursday, October 23, 2014, 6:30 PM at the Koloa Neighborhood Center Read more…
Posted 10/11/2014: WE NEED YOUR HELP! Please sign our online petition to oppose Hawaii Dairy Farms' Industrial Dairy in Maha'ulepu, Kaua'i! Read more…
Posted 9/28/2014: Malama Maha'ulepu says 'no' to dairy proposal! Malama Maha'ulepu has announced its formal opposition to Hawaii Dairy Farms' proposed dairy operation on 578 acres in Maha'ulepu Valley. The nonprofit organization says its decision comes after "months of careful scrutiny, research and deliberation." Read more…
Posted 9/19/2014: A review of NRCS Custom Soil Resource Report for area of proposed dairy operation concluded that "data are in direct conflict with the Plan's claims that soils are suitable for an intensive confined animal feeding operation and animal waste disposal with land application and irrigation of effluent…Surface runoff from this site will contain manure contaminants that will be conveyed to streams, wetlands and coastal waters." Read more…
Posted 8/13/2014: Legal council for Kawailoa, Hawaii-based owner of the Grand Hyatt Kauai Resort & Spa, and the Poipu Bay Golf Course, submits powerful "Comment" document to the Department of Health concerning the legality and science behind HDF's recent Waste Management Plan . Read more…
Posted 7/16/2014: Kawailoa, Hawaii-based owner of the Grand Hyatt Kauai Resort & Spa, and the Poipu Bay Golf Course, file suit to stop proposed dairy farm. Read more…